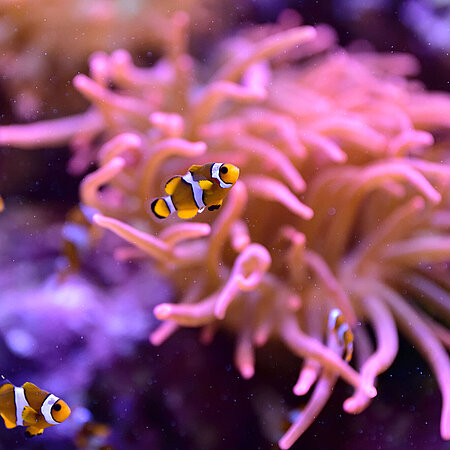 Privacy
We are pleased that you have chosen to visit our website. In this privacy policy, we explain how we handle your personal data in a clear, easily understandable manner.
In Part 1, we explain how we, Münchener Tierpark Hellabrunn AG, process and protect your personal data, and in Part 2 we provide information on the privacy policies of external service providers that are linked to our website, or whose services are used by us.
Part 1: Privacy Policy of Münchener Tierpark Hellabrunn AG
Data controller
Data controller responsible for the processing of personal data according to Art. 4 para. 7 GDPR is:
Münchener Tierpark Hellabrunn AG
Tierparkstr. 30
DE - 81543 Munich
Germany
Represented by Rasem Baban (Zoo Director)
Further information can be found in our imprint.
Purpose of data collection
The primary purpose of processing personal data is to ensure the smooth running of our website. We collect, process and store data in order to provide you, as a visitor to our website, with interesting, up-to-date information online, as well as to facilitate contact with you, and allow you to order entry tickets via an external service provider.
You can use our website without having to enter your personal details. Users are not required to register to access the website.
Under data protection law, we are obliged to guarantee the confidentiality and integrity of the personal data processed by our IT systems.
We process the following data:
IP address of the visitor's computer (for a maximum of 7 days)
Operating system used by the visitor's computer
Browser version of the visitor's computer
Path and query string of the requested URL
Date and time of the visit
Size of the data transfer
Referring URL
Request type (e.g. GET or POST) and status code
The IP address will be deleted within no later than 7 days from all systems used in connection with the operation of this website. Thereafter, any remaining data we store is no longer personally identifiable, i.e. cannot be used to identify you.
The data is also used to fix errors on the website.
The legal basis for data processing in this context is Art. 6 para. 1 letter f) GDPR. Our legitimate interests pursuant to Art. 6 para. 1 letter f) are the operation of this website and the implementation of protection measures for the confidentiality, integrity and availability of the data.
Contact- and order-forms are provided for visitors to send messages to us via the internet or to register for a service we provide (e.g. to book a guided tour or children's birthday party). You can also contact us via e-mail.
The use of the contact forms provided is voluntary.
The legal basis for data processing in this context is Art. 6 para. 1 sentence 1 letter b) GDPR (execution of pre-contractual measures for the preparation of orders) or Art. 6 para. 1 letter f), the communication with customers or prospective customers.
We store the following data via our contact form to process and answer your enquires:
We store the following data via our press accreditation form to process and approve your application:
Title, first name, last name
Email address, phone number
Information on planned report
We store the following data via our booking form for guided tours to process your request and book your tour:
First name, last name (and company name where applicable)
Address
Email address, phone number
We store the following data via our ticket- and voucher order form to process your purchase enquiry:
First name, last name (and company name where applicable)
Address
Email address, phone number
How we handle your personal data
Personal data that you have submitted to us via a contact form or registration form or via email will be stored on our servers in Munich. Data backups are only carried out on computers within the European Union, which are subject to European data protection law.
If you send us an email, please be aware that the transmission path from your computer to us is not encrypted and that unauthorised persons may be able to access and read such emails. In this respect, sending us an email is analogous to sending a postcard. If you need to send us data you consider particularly sensitive or confidential, please contact us by phone. We will then explain to you how best to proceed.
The legal bases for data processing in this context can be found in Art. 6 para. 1 sentence 1 letter b) GDPR (contract fulfilment), Art. 6 para. 1 sentence 1 letter f) GDPR (legitimate interests) or order processing through a service provider, provided this personal data is processed on our behalf (Art. 28 GDPR). If you need further information on our applied forms, please refer to www.hellabrunn.de/datenschutz-formulare.
Recipient/Transfer of data
We generally do not pass on personal data provided to us by you to a third party. In particular, your data will not be transferred to third parties for their advertising purposes.
However, in cases where we use service providers for the maintenance of this website or to provide service offered by us, it may occur that a service provider needs to receive personal data from us in order to provide the service. We carefully select our service providers - in particular with regard to data protection and data security - and take all data protection measures necessary for the permissible processing of such data.
Data processing outside the European Union
With the exception of our use of Google Analytics, YouTube, Facebook, Instagram and Twitter, your personal data will not be processed in countries outside the European Union and European Economic Area, also known as third countries.

You can find more information about how our service providers handle your data in Part 2 of this Privacy Policy.
Contact us by e-mail
If you contact us by e-mail, your e-mail including all resulting personal data (e-mail address, surname, first name, address and any other personal information voluntarily provided by you) will be included for the purpose of processing your request stored and processed us. We will not share this information without your consent.
The processing of this data is based on Art. 6 para. 1 lit. b GDPR, if your request is related to the performance of a contract or is required to carry out pre-contractual action. In all other cases, the processing is based on your consent (Article 6 (1) a GDPR) and / or on our legitimate interests (Article 6 (1) f GDPR), since we have a legitimate interest in the effective Processing of requests addressed to us.
The data sent by you to us by e-mail remains stored with us until the purpose for the data storage is omitted (eg after completion of your request). Mandatory statutory provisions - in particular statutory retention periods - remain unaffected.
Contacting us via phone
If you call us, your phone number will be displayed on the screen of the receiving device (provided it is not hidden) and stored in our telephone system. The storage in our telephone system is required for billing purposes; the display on our phone's screen is necessary to improve the service and facilitate return calls. Access to the telephone data in our system is strictly regulated. Stored phone numbers are deleted within no later than six months.
The legal bases for data processing in this context can be found in Art. 6 para. 1 sentence 1 letter b) GDPR (fulfilment of contract or pre-contractual measures, or for the processing of your enquiry) and Art. 6 para. 1 sentence 1 letter f) GDPR (legitimate interests for the monitoring of invoices).
Your rights as a data subject
You have the right to information about the data stored on your person. You can contact our data protection officer for such information at any time.
You have the right to correction or deletion or restriction of processing of your personal data, to the extent permitted by law.
You have the right to object to the processing to the extent permitted by law. The same applies to the right to data portability.
Please note, however, that if you are an annual pass holder, any request for the deletion of your data from our server will cause your annual pass to become invalid, as it is no longer possible to confirm its validity.
We hereby assure you that we protect your personal data using the latest technology and in accordance with data protection requirements, in particular the European General Data Protection Regulation, and implement the necessary organisational and technical measures (such as the encryption of particularly sensitive data) to prevent data theft and the unauthorised use of your personal data.
Right to complain to a regulatory authority
You have the right to complain about how we process your personal data to a data protection regulator. Contact details for the state data protection regulator:
Der Bayerische Landesbeauftragte für den Datenschutz
Wagmüllerstraße 18
80538 Munich
Germany
poststelle@datenschutz-bayern.de
https://www.datenschutz-bayern.de/
or PO box address:
Der Bayerische Landesbeauftragte für den Datenschutz
Postfach 22 12 19
80502 Munich
Germany
Data protection office
Our data protection officer is:
Mr Hermann Wagnermeyer
Münchener Tierpark Hellabrunn AG
Tierparkstr. 30
81543 Munich
Germany
Email: datenschutz@hellabrunn.de
Changes to our privacy policy
We reserve the right to change this privacy policy in the event of changes to this website or other circumstances that may require it. The current version is always available at: https://hellabrunn.de/datenschutz
Version dated: 26.01.2023
Part 2: External service providers
External service providers are always involved when using our website. These usually operate outside our direct control. For example, our website is linked to Facebook, Instagram, Twitter and YouTube. In the following, we would like to provide you with the privacy policies of these companies, as provided to us. Please note that we assume no liability for the accuracy of this information.
We work in partnership with München Ticket
You can buy entry tickets for Hellabrunn Zoo online. We process ticket sales via the following external service provider:
München Ticket GmbH
Seidlstraße 30
80335 Munich
Germany
For information about the data protection measures of this provider please visit:
www.muenchenticket.de/Datenschutz
We use FundraisingBox
You can send us a donation via an online form. Your payment and contact details will be used for the transaction and stored by us. To process your donation, we use FundraisingBox and its online donation form, a product provided by Wikando GmbH. This external service provider always guarantees the highest data security for your data. The personal data you provide will be sent to us via a secure connection.
You can choose to make an online donation using one of the following payment methods:
Donations via direct debit
In case of a direct debit, we will transfer your account details to our bank, so that we can receive your donation.
Donations via electronic payment
For electronic payment donations, you will be forwarded to the website of the payment provider Sofort AG upon confirmation of the details entered in the donation form. We do not receive your account details with this payment method. We only receive a message confirming your donation.
We use the data provided by you in the online donation form to process the transaction and for fundraising. You can object to the use of your personal data at any time by sending an email to datenschutz@hellabrunn.de notifying us of which online form you have filled out. Further information on the procedures you can obtain from Fundraising's privacy policy under https://en.fundraisingbox.com/privacy/ .
Furthermore, we link from our website to various shopping platforms, which offer a charity / donation function for the benefit of the Munich Tierpark Hellabrunn AG, by means of which you can support us with partial amounts of your purchase value. Please refer to the respective privacy policy of the provider in order to learn to what extent these companies implement the measures and provisions of the General Data Protection Regulation (GDPR).
Gooding - shopping platform that supports non-profit projects and organizations. You can find Gooding's privacy policy here.
WeCanHelp - shopping platform that supports educational institutions. Here you will find the privacy policy of WeCanHelp.
AmazonSmile is the donation function of Amazon.com Inc. You can find Amazon's privacy policy here.
Important note on the use of digital, US-based communication channels of Hellabrunn Zoo:
We use Google, Youtube, Facebook, Instagram and Twitter to digitally inform our visitors and interested parties about the Hellabrunn Zoo in a variety of ways and in a way that is appropriate for the target group with info texts, photos and videos. In addition, our audio offers such as the podcast "Mia San Tier - the zoo podcast from Hellabrunn" can be heard on platforms such as Spotify, ApplePodcast, Deezer and GooglePodcast.
The above offers are provided by US service companies. We point out that some of the data, when using the above-mentioned offers, are processed in the USA where is no adequate level of data protection in accordance with the General Data Protection Regulation (GDPR). Furthermore, the legal protection options that the EU's Charter of Fundamental Rights is supposed to guarantee EU citizens are severely limited in the USA. As a result, the European Court of Justice (ECJ) has declared the EU Commission's so-called 'adequacy decision' on the Privacy Shield to be invalid. Since the so-called "Schrems II" decision of the ECJ, the use of these offers is no longer guaranteed at the European level of data protection in accordance with the GDPR.
For you this means that when you use one of the above offers, personal data, e.g. your IP address, possibly your location and possibly your comments on our texts and photos will be transferred to the USA and stored, processed, passed on or otherwise used there.
We also point out that the above, according to the GDPR, media may only be used if you are 16 years of age or older.
Facebook:
Plugins from Facebook are integrated on our website (provider: Facebook Inc., 1 Hacker Way, Menlo Park, California 94025, USA). These plugins appear on our website as a Facebook logo or as a "Like" button.
You can find more information about the Facebook plugins at:
www.developers.facebook.com/docs/plugins
You can find more information on Facebook's privacy policy at:
www.facebook.com/policy.php
YouTube:
An extended data protection mode has been activated for the YouTube videos embedded on this website. With this mode, we prevent YouTube from storing cookies for a user who displays a website with an embedded YouTube video player with extended data protection, but does not click on the video to start playback. Although YouTube may save cookies on the user's computer after clicking on the YouTube video player, no personal cookie information is saved for the playback of embedded videos with extended data protection.
You can find more information about YouTube's data protection declaration at:
www.policies.google.com/privacy?hl=en&gl=de
Instagram:
Our website links to our presence on Instagram with additional content (texts, photos and videos) about Munich's Hellabrunn Zoo.
You can find more information on Instagram's privacy policy at:
www.help.instagram.com/519522125107875
Twitter:
Our website links to our presence on Twitter with further content (texts, photos and videos) about Munich's Hellabrunn Zoo.
You can find more information on Twitter's data protection declaration at:
www.twitter.com/en/privacy
We use the analysis tool Matomo:
This website uses Matomo 4.12.2, an open source, self-hosted software to collect anonymous usage data for this website. Visitor behavior data is collected to identify any issues such as pages not found, search engine problems, or unpopular pages. As soon as the data (number of visitors who see error pages or only one page, etc.) is processed, Matomo generates reports for the website operators so that they can react to them. (Layout changes, new content, etc.)
Matomo processes the following data:
cookies
anonymized IP addresses by removing the last 2 bytes (i.e. 198.51.0.0 instead of 198.51.100.54)
pseudo-anonymized location (based on the anonymized IP address
date and time
title of the called page
URL of the called page
URL of the previous page (if this allows it)
screen resolution
local time
files clicked and downloaded
external links
page loading time
country, region, city (with low accuracy due to IP address)
main language of the browser
browser user agent
In addition, the contact form processes the e-mail address and optionally the telephone number of the requester. The data will not be shared with anyone and will only be used to answer the request. (there are no other marketing mails)
Cookies:
We use cookies to analyze access to our website. In this context we use services with cookies used by Matomo. The data of this website and Matomo are hosted in Germany. The data never leaves the EU.
Streaming services:
We distribute our podcast format "Mia san Tier - the zoo podcast of Hellabrunn" via US streaming services such as Spotify, ApplePodcast, GooglePodcast and Deezer. The respective data protection regulations can be found on the following pages: