European green toad
Bufotes viridis
Family

Toads (Bufonidae)

Weight

♀ 70 – 100 g, ♂ 30 – 50 g

Habitat

Warm, sunny sandy and fallow land
The European green toad is a nocturnal species that prefers steppe-like, sandy habitats. It can change its skin colour to camouflage with its surroundings. Depending on the background, the toad's colour can range from pale to intense. Thus, the species is also called the "changeable toad".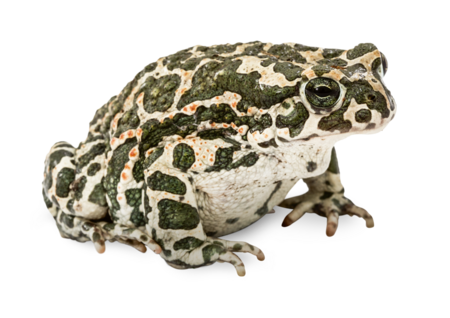 The tadpoles metamorphose into tiny toadlets between eight to twelve weeks, then leave the water to begin life on land. They often settle in completely new, unknown areas, spreading quickly and gaining new habitats for themselves. They are hence classified as pioneer species.
Female toads lay a long string of eggs (3 – 4 m long) in shallow water, which they wrap around aquatic plants to ensure the eggs do not drift away.
Distribution