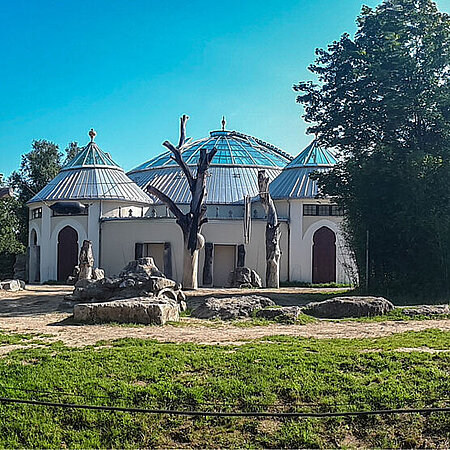 Opening hours and directions
This is how you come to us
U3 (e.g. starting from "Marienplatz") to underground station "Thalkirchen (Tierpark)", approximately 3 minutes footpath in order to reach the "Isar Entrance" (signposted).
MetroBus line 52 starting from the city (e.g. "Marienplatz (Rindermarkt)" and "Sendlinger Tor") to last bus stop "Tierpark (Alemannenstraße)", right in front of the "Flamingo-Entrance".

Tram line 25 to the "Tiroler Platz" stop, approx. 15 minutes' walk to the "Flamingo entrance"

S8 starting from Airport Munich to terminal "Marienplatz".
Then U3 starting from "Marienplatz" to "Thalkirchen (Tierpark)".
Due to the limited number of parking spaces available, we recommend traveling to the zoo by public transport, especially on weekends, during the Bavarian school holidays and public holidays.
car park P1 | Tierparkstraße - (near "Isar-Entrance") - cars only - own parking rate system (this parking lot is managed by Bavarian Red Cross, parking fee up to max. 5,00 € / day; payable at machine by counted coins or ec-card )
car park P2 | Siebenbrunner Straße - (near "Flamingo-Entrance") - omnibuses and cars (6,00 €, cash or card / EC, Visa, Mastercard, Amex). A barrierless parking management system with license plate scanner is installed at the P2 parking lot.
Disabled Parking Spaces: There is a limited number of disabled parking spaces available in both car parks. Diabled visitors can get their parking fees refunded, when producing the parking coin (for parking lot 2) and a valid 'diabled card' (including photo) at the cash registers at the entrances on the same day.

Plan your route with Google Maps.

Low emission zone:
The zoo itself is not in Munich's low emission zone. Nonetheless, if you plan to arrive by car please read the information linked below (Diesel driving ban):
http://muenchen.de/umweltzone
The zoo is also very accessible by bike. There is a limited number of bicycle parking spaces. Here you can find a bicycle route planner.