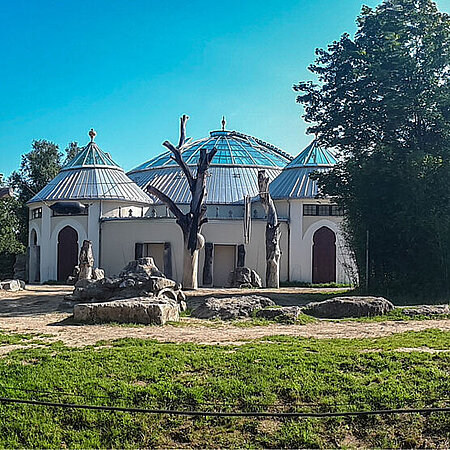 Opening hours and directions
This is how you come to us
U3 (e.g. starting from "Marienplatz") to underground station "Thalkirchen (Tierpark)", approximately 3 minutes footpath in order to reach the "Isar Entrance" (signposted).
MetroBus line 52 starting from the city (e.g. "Marienplatz (Rindermarkt)" and "Sendlinger Tor") to last bus stop "Tierpark (Alemannenstraße)", right in front of the "Flamingo-Entrance".

Tram lines 15 and 25 to the "Tiroler Platz" stop, approx. 15 minutes' walk to the "Flamingo entrance"

S8 starting from Airport Munich to terminal "Marienplatz".
Then U3 starting from "Marienplatz" to "Thalkirchen (Tierpark)".
Due to the limited number of parking spaces available, we recommend traveling to the zoo by public transport, especially on weekends, during the Bavarian school holidays and public holidays.
car park P1 | Tierparkstraße - (near "Isar-Entrance") - cars only - own parking rate system (this parking lot is managed by Bavarian Red Cross)
car park P2 | Siebenbrunner Straße - (near "Flamingo-Entrance") - omnibuses and cars (6,00 €, cash or card / EC, Visa, Mastercard, Amex). Note: from 03/13/2023 to expectedly 03/30/2023 we will change our parking fee system in this car park and will not charge you any parking fees during this time.
Disabled Parking Spaces: There is a limited number of disabled parking spaces available in both car parks. Diabled visitors can get their parking fees refunded, when producing the parking coin (for parking lot 2) and a valid 'diabled card' (including photo) at the cash registers at the entrances on the same day.

Plan your route with Google Maps.

Low emission zone:
The zoo itself is not in Munich's low emission zone. Nonetheless, if you plan to arrive by car please read the information linked below (Diesel driving ban):
http://muenchen.de/umweltzone
The zoo is also very accessible by bike. There is a limited number of bicycle parking spaces. Here you can find a bicycle route planner.
Routenplaner
Auf dem Stadtplan von Google Maps kannst du den Tierpark aus der Vogelperspektive sehen und mit dem Routenplaner deine Anfahrt planen. Wichtig für die Anfahrt mit Fahrzeugen über 3 Tonnen: bitte über die Schönstraße vom Candidplatz kommend den Tierpark anfahren.
Umweltzone
Wichtiger Hinweis für alle Fahrer: München hat eine Umweltzone, in der Fahrzeuge nur mit der grünen Plakette fahren dürfen. Der Tierpark selbst liegt nicht in der Umweltzone. Bitte beachte für die Anfahrt mit dem PKW daher die Informationen insbesondere auch zum Dieselfahrverbot der Stadt München.
Parkplätze
Tierparkstraße (Isar-Eingang): nur PKW (eigenes Parktarif-System, dieser Parkplatz wird vom Bayerischen Roten Kreuz bewirtschaftet)
Siebenbrunner Straße (Flamingo-Eingang): Busse und PKW (6,00 €, Barzahlung oder mit ec und Kreditkarte / Visa-, Mastercard, Amex). Hinweis: vom 13.03.2023 bis voraussichtlich 30.03.2023 ändern wir unser Parkentgelt-System auf diesem Parkplatz und berechnen Ihnen in dieser Zeit keine Parkgebühren.

Behindertenparkplätze:

Auf beiden Parkplätzen steht eine begrenzte Anzahl an Behindertenparkplätzen zur Verfügung. Durch die sichtbare Hinterlegung des Nachweises zum kostenfreien Parken im Fahrzeug können Sie auf dem Parkplatz P1 kostenlos parken, bzw. können die Parkgebühren für den Parkplatz P2 an den Kassen am Flamingo-Eingang für den Besuchstag erlassen werden. Hierzu musst du den Park-Chip und einen gültigen, mit Lichtbild versehenen Schwerbehindertenausweis (Merkzeichen H / aG / Bl) im Original, nicht in digitaler Form persönlich vorlegen. Der Parkplatz-Chip muss dann nur noch durch den Parkplatzautomaten geworfen werden, damit er für die Ausfahrt aktiviert wird.

Park & Ride (empfohlen besonders an Wochenenden und Feiertagen):

An zahlreichen U- und S-Bahnstationen in München befinden sich Park & Ride-Parkplätze, wo du dein Fahrzeug zum günstigen Tagespreis abstellen und dann mit öffentlichen Verkehrsmitteln bequem und schnell zum Tierpark gelangen kannst. Eine Übersicht über alle Park & Ride-Stationen findest du hier

Entlang der U-Bahnlinie U3, die Sie ohne Stau, direkt und ohne Umsteigen zum Tierpark bringt, befinden sich folgende P+R-Anlagen (über den jeweiligen Link gelangst du zu weiteren Informationen der einzelnen Anlagen):