Looking for an unforgettable family day out with the kids? Hellabrunn Zoo is packed with fun and wild adventures for children of all ages. The zoo is a unique, multisensory experience where the little ones can see, hear and smell over 500 exotic and native animal species. Other kids attractions such as the two petting zoo areas, two playgrounds and the Kinderland guarantee a fun-filled day.
Animals you can actually touch! Hellabrunn's petting zoo areas at the Isar entrance and the Muehlendorf is a great experience for young and old.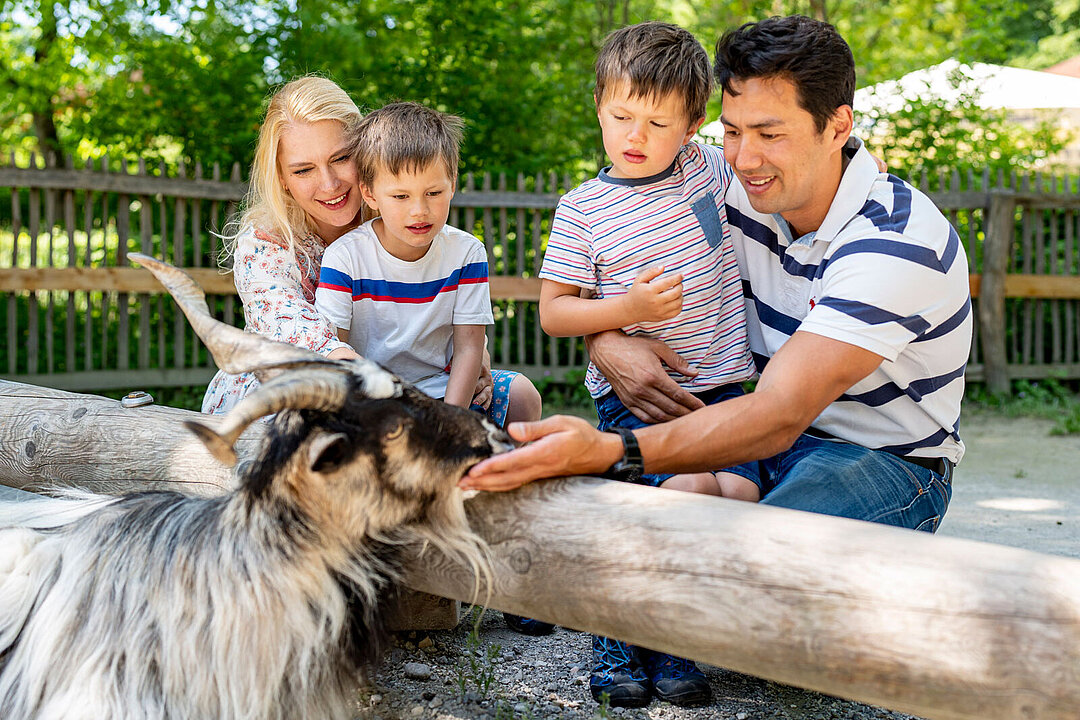 Hellabrunn Zoo has two playgrounds where kids can play till their heart's content: a large adventure playground and a toddler-friendly play area at Café Rhino. The playgrounds are designed so that while the little ones romp around, parents can relax in the neighbouring restaurant.
The perfect play area for super duper adventures is situated right next to the zoo's main restaurant (with beer garden). While children slide down through the fantabulous giant elephant trunk, parents can catch their breath under old chestnut trees in the beer garden. And those little ones who would love nothing better than to climb with real monkeys can test their skills on the Mikado climbing frame with nets and swings (the tower is currently closed due to restoration work).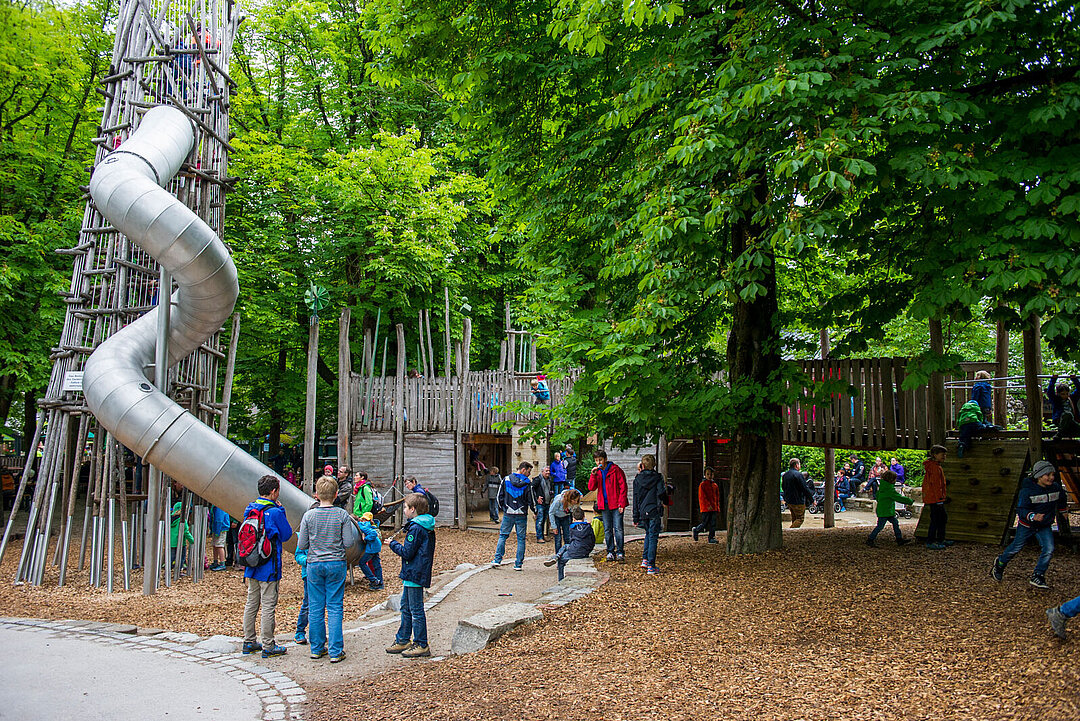 Rhino Playground next to Café Rhino
The Rhino Playground is designed specifically for our youngest visitors. It is situated next to the elk enclosure and Café Rhino. While the toddlers play, parents can pamper their taste buds with Bavarian culinary delights at the idyllic café.
The Tree Top Trail in the Rhino Playground takes the children's excitement of a visit to the zoo to a higher level. Kids who venture to the top will be able to get a much better view of the nilgai, blackbuck, sarus cranes and chital deer in the neighbouring enclosure. The playground also features a water play area, which is particularly popular among toddlers for splashing and cooling down, especially in summer. The 1,000 m² playground is situated opposite the Rhino House between the elk and nilgai enclosures and offers an attractive alternative the Adventure Playground in the children's zoo.
But the Rhino Playground was designed not just with young visitors in mind. Parents can enjoy a well-deserved break in the retro-style Café Rhino. The best place to sit is on the wooden terrace built directly over the moat bordering the elk enclosure. From here you'll have a great view of the European elk and at the same time can keep a close eye on your little ones on the playground. Café Rhino serves delicious Italian panini, freshly baked, handmade pizzas, cakes and a fine selection of coffees.
Are you planning to visit the zoo with small children? Or do you have heavy shopping bags, backpacks or food that you prefer not to haul around? If so, then an original JAKO-O pull-along cart is just the right thing for you. Our carts offer plenty of space. You can rent a pull-along cart either at the Isar entrance or Flamingo entrance of the zoo. Price: € 5.00.
The zoo has a limited number of pull-along carts available. We therefore ask for your understanding on particularly busy days, in the event where all carts have already been hired out. We also recommend that if you do not intend to use your pushchair or pram in the zoo, please leave these items in the car or at home as Hellabrunn Zoo has no parking facilities for such items.
Kinderland Hellabrunn has much to offer. Here kids can enjoy rides like the vintage train and are guaranteed to have a lot of fun. In addition, the Süße Biostadl offers a selection of delicious candy - from cotton candy to ice cream – for visitors with a sweet tooth, big and small.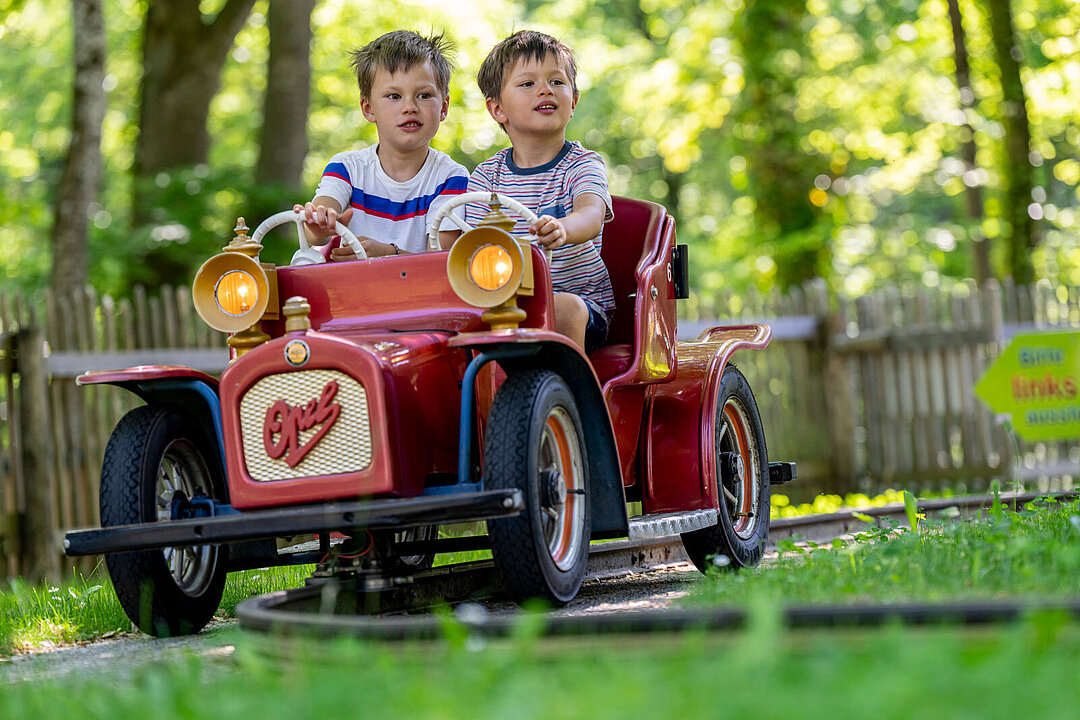 Children's birthday parties
If you are looking for a unique birthday adventure, then Hellabrunn is the place to celebrate. We offer several birthday party themes for you to choose from. They include Animal Olympics, Hellabrunn Jungle Book or a visit to the "scariest animals" with a little test of courage. We have birthday themes to suit everyone, ensuring your child will have a birthday party they'll never forget!