Happy third birthday, Otto the elephant!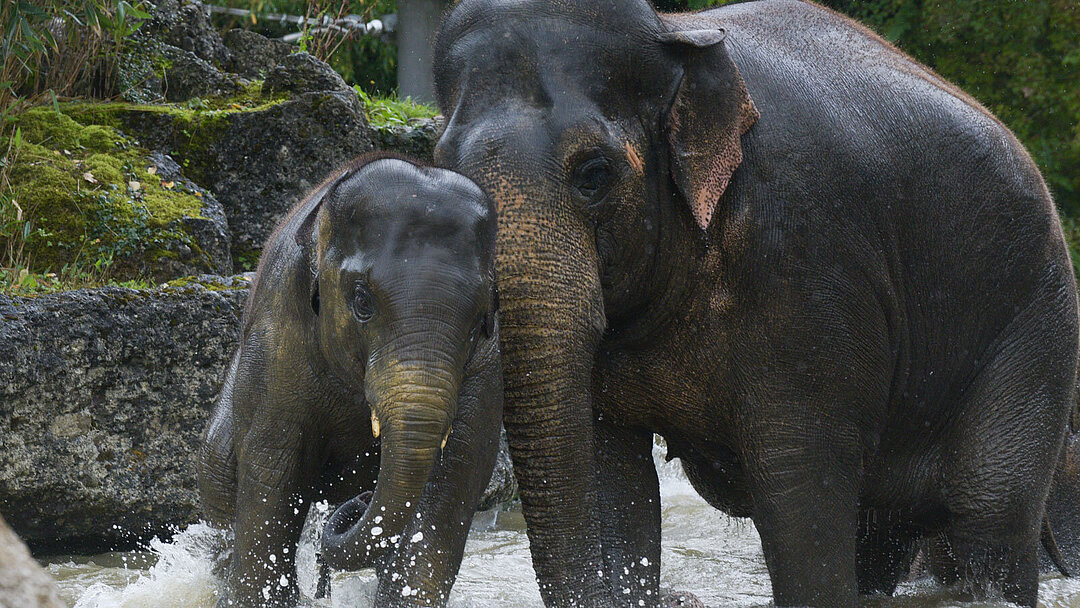 11 November 2020 was a very special day for Hellabrunn Zoo – a baby elephant named Otto was born at 12:23 am. This month, little Otto turns three years old! Even as he grows, the juvenile bull remains a firm favourite among visitors to the zoo in Munich.
Since his birth, Otto has grown quite a bit - the young elephant bull now weighs around 1.5 tonnes, measures around 1.80 m tall and already has two tusks that are around 15 cm long. These developments have helped him gain self-confidence, because the active youngster not only keeps mum Temi, but also his two "aunts" Mangala and Panang and Hellabrunn's elephant keeper team on their toes. "Like most juvenile bull elephants, Otto also tests his limits in a playful way. But he also works very well during daily training and listens to our commands," says Daniel Materna, team leader at Hellabrunn's Elephant House.
Zoo director Rasem Baban is equally pleased with the juvenile bull's development: "There's never a dull moment watching Otto grow. This not only applies to me, but also to our many visitors to Hellabrunn. This summer in particular, it was a joy to watch the young bull, who is not so small anymore, bathing in the outdoor pool."
This year, the zoo will celebrate Otto's birthday with a large Happy Birthday poster featuring the most beautiful moments of his third year of life, which will be hung at the entrance of the Elephant House. There will also be an Elephant Talk hosted by the keepers on Saturday, 11 November 2023 at 2:15 pm, during which the birthday bull will receive a tasty surprise.
Verena Dietl, mayor and chair of the zoo's supervisory board, sends birthday greetings from Munich City Hall: "I wish little Otto all the best on his third birthday and also congratulate the animal care staff - they have taken care of Otto with great commitment as he grows up and are doing an excellent job."
By breeding Asian elephants, Hellabrunn Zoo makes an important contribution to the EAZA Ex-situ Programme (EEP). The herd in Munich also plays an important ambassadorial role for the Bukit Tigapuluh Landscape Conservation Programme. The project, which is sponsored by Hellabrunn Zoo, is located in the Bukit Tigapuluh National Park in Sumatra, one of the largest contiguous lowland rainforests on the island. It works to preserve the natural habitat of many of the island's endangered species such as the Sumatran orangutan and the Sumatran elephant.