Hellabrunn Zoo celebrates Otto the elephant's second birthday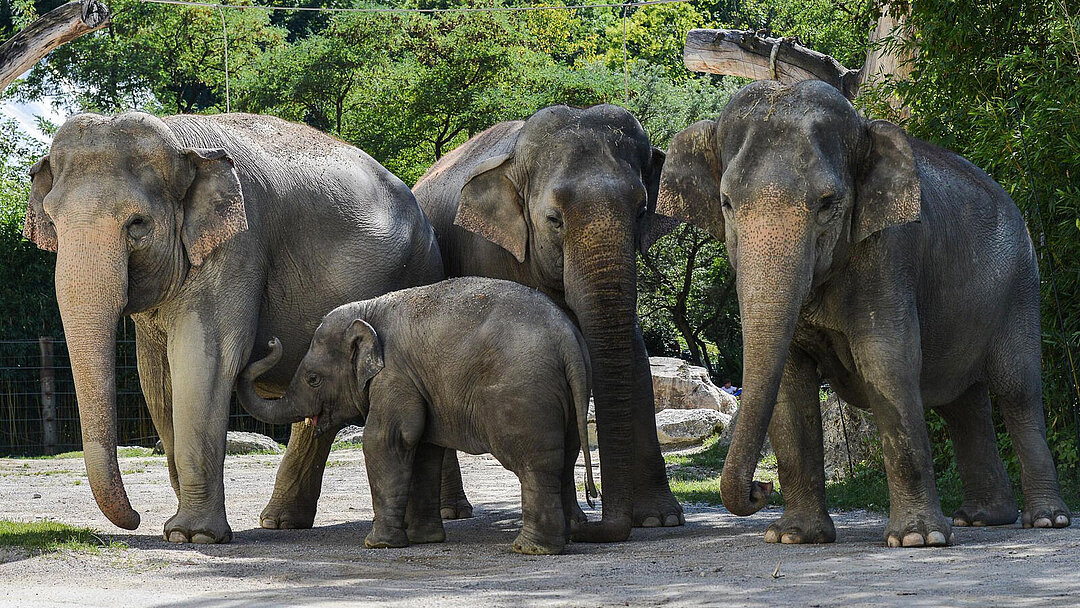 On 11 November, Hellabrunn Zoo celebrated the birthday of one of its most popular residents: Otto, the elephant, turned two!
Since his birth, little Otto has delighted the hearts of many visitors and even has fans far beyond Munich. The young elephant has developed splendidly in the past year. Growing up for Otto is one big adventure: testing milk teeth, taking mud baths and learning from the adults. The zoo marked his birthday with a few special activities for visitors: A Happy Birthday poster was hung at the entrance of the Elephant House as a photo point for well-wishers, the keepers hosted a special elephant talk and the latest Hellabrunn Zoo podcast episode, released on Otto's birthday, features a behind-the-scenes look at the work of all the elephant keepers.
From 100 kg to 950 kg in two years: Otto grows and playfully tests his limits
The whole herd helps to raise the baby elephant. In addition mum Temi, the aunts also keep an eye on the little bull. And with good reason: nothing is safe from the mini powerhouse in the extensive outdoor enclosure or in the Elephant House. Everything is curiously examined and tested as if it were a toy. The keepers and vets closely monitor his growth and are very satisfied with his development. Otto has already learned a lot, which comes in handy for his daily medical behaviour training. He responds to commands to lift his foot or trunk very well. He is even getting better and better at standing still.
Daniel Materna, team leader of the elephant keepers, knows his charge very well and was able to observe many development steps over the past year: "From a small calf weighing just under 100 kg at birth, he has now grown into a curious bull of around 950 kg. But he is slowly starting to become a little mischievous. He sometimes uses his short tusks to prick his aunts and his dad. Every day, we see how he improves his climbing skills on the rocks, how he can already use his trunk for sand or water baths and how he can use his strength to play with what is now the second, very heavy tractor tyre, like a light toy."
30 to 40 kg of feed per day
Zoo director Rasem Baban also has 11 November marked in bold in the calendar: "Even in his second year, we had a lot of fun watching how well our young bull developed. Since birth, he has gradually become accustomed to his surroundings and all the family members. Now he likes to set the tone in the elephant herd." Baban adds: "We are particularly pleased that Otto and his father Gajendra live together so well. Our adult bull is really very patient with the son and we see how much he learns not only from his mum and aunts, but also from his dad. Of course, we would like to thank to all the animal keepers of the Elephant House at Hellabrunn, who care for Otto with commitment and patience as he grows."
By breeding Asian elephants, Hellabrunn zoo makes an important contribution to the European conservation breeding programme. The herd in Munich also serves as important ambassador for the Bukit Tigapuluh Landscape Conservation Programme, which Hellabrunn Zoo supports. The project, which is located in the Bukit Tigapuluh National Park in Sumatra, one of the largest contiguous lowland rainforests on the island, works to preserve the natural habitat of many of the island's endangered species such as the Sumatran orangutan and the Sumatran elephant.