Meet the new sable rabbits in Hellabrunn's Mühlendorf village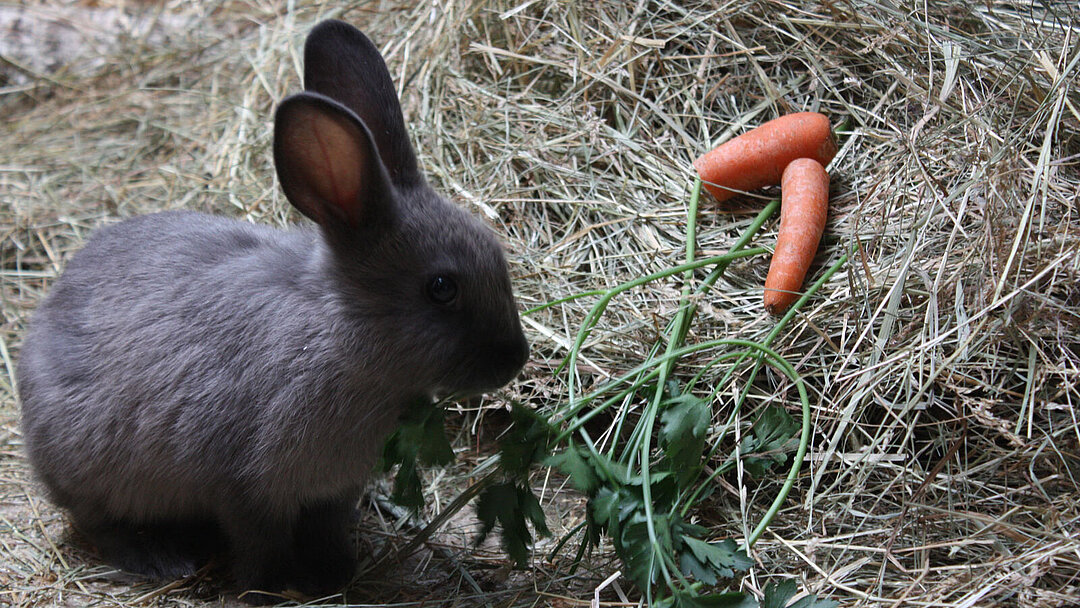 This month animal lovers who like to experience life on the wild side are in for a special treat: an opportunity to be one of the first to meet the newly arrived sable rabbits in the Mühlendorf. But that's not the only reason why a tour of the zoo village is worthwhile, especially as autumn approaches. Hellabrunn Zoo has introduced a brand new animal breed to the Mühlendorf village. Since arriving in August, the adorable newcomers have been charming zoo guests with their erect ears, wiggling nose and dark bead-like eyes. The sable rabbits' new home is a modern enclosure in the zoo's Bavarian-style village where, as part of a collection of endangered domestic breeds, they will help raise awareness about local biodiversity. Opened in 2019, the Mühlendorf is now part of Europe geozone at Hellabrunn and invites visitors to venture on a fascinating native wildlife discovery tour.
Characteristics and conservation status
Sable rabbits have a stocky body, erect and hairy ears and comparatively short legs. The breed is distinguished by its graduated blue or sepia brown coloured coat: lighter on the flanks and darkens on the shoulders, face and along the back. Sable rabbits are considered endangered and are difficult to breed because they are heterozygous (animals with two different versions of a gene that controls a particular characteristic, e.g. fur colour). This means that only half of the offspring will have the genetic makeup, including same colour, as their parents. According to the Red List of Heritage and Endangered Domestic Breeds Conservation Society (GEH), only brown or blue coloured animals are formally recognised as purebred sable rabbits.
The sable rabbit originated in Germany around 1925 in Hamburg. It was developed from a cross between the Vienna blue, Thuringer, Belgian hare, white Angora, Havana and chinchilla rabbit breeds. Sable rabbits are named after their sepia brown fur that resembles that of a sable. A fully grown adult weighs around four kilos. There are currently two sable rabbits living at Hellabrunn Zoo. However, the zoo expects to have more in the future.
For Carsten Zehrer, head of zoology and curator at Hellabrunn Zoo, the new arrivals represent the zoo's commitment to preventing the disappearance of more domestic breeds: "Many heritage breeds are threatened with extinction because, unlike modern breeds, they are unable to provide sufficient milk, meat or eggs. An example is the Murnau-Werdenfels cattle, which simply could not compete with the level of milk produced by modern high-performance Braunvieh and Fleckvieh breeds on a commercial level. Our goal is to raise awareness among our guests about the impact these endangered domestic breeds have on existing ecosystems and educate them about how they developed from wild to domestic animals. With the arrival of the sable rabbits, which can now been seen by our visitors, we have teamed up with other institutions as part of a long-term commitment to protect this special breed."
Visit the Mühlendorf village – there is a lot to discover
In addition to the new arrivals, zoo guests can now also experience the harvest in the Cottage Garden in late summer. Here, conservation ambassadors demonstrate the various types of vegetables and fruits grown several times a week – with delicious tastings often included! The zoo village also welcomed two young female Dahomey dwarf cattle as new residents in June. Other Mühlendorf dwellers that will delight visitors include the Appenzeller Spitzhauben chickens, the Murnau-Werdenfelser male calf, Bulgarian long-haired goats and a litter of Kunekune piglets.