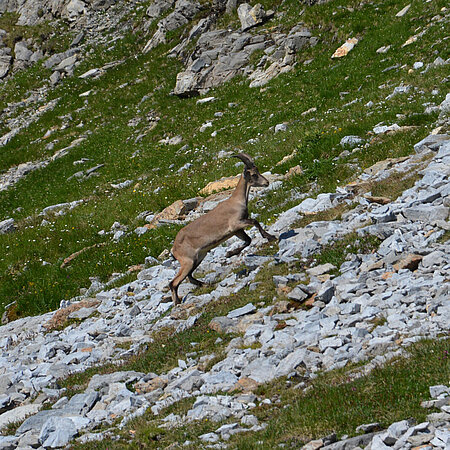 A modern zoo
The evolution of the modern zoo
Zoos have a long history. The first collection of wild animals can be traced back thousands of years to the ancient zoos of the Egyptian pharaohs and Chinese emperors. The expansion of the Roman Empire brought many exotic wild animals to Europe. However, while some were collected, these animals were mainly destined for the arena. Over the next 2,000 years, ancient zoos evolved from private menageries within a palace park to the first zoological gardens opened to the public in the 19th century, to the modern, scientifically-led zoos that exist today.
Hellabrunn today is a scientifically-led zoo that fulfils three key social responsibilities - education, science & research and species conservation. They form the three pillars on which Hellabrunn Zoo is built. The zoo offers a nature experience for visitors with a truly relaxing atmosphere. This encourages guests to learn more about the animals and inspires them to get involved in species conservation.
Education: We provide an insight into the global animal kingdom and create a place for learning about biodiversity conservation.
Science & research: We enable scientific research on animal species that would not be possible in their natural habitat.
Species conservation: We are a centre for species conservation through husbandry, breeding and global cooperation with nature conservation organisations.
Environmental education – Discover and learn
Why are zoos important for education?There is so much to discover at Hellabrunn Zoo. You can get up close to native and exotic animals, discover distant continents, immerse yourself in the wonderful park landscape and learn fascinating facts at the fun interactive stations. Set in a beautiful conservation area in Munich, the zoo envisions itself as a centre for education and nature conservation. It aims to inspire visitors to get involved in the preservation of biodiversity and educate them about species conservation.
Fascinating facts
How many teeth does an elephant have?
How much does a giraffe weigh?
What are mudskippers?
And where do red-billed blue magpies come from?
At Hellabrunn Zoo, you will learn exciting facts about all our animals. We also raise awareness about the environmental issues that affect them, such as negative impacts on their natural habitats and how we can improve them. If you visit our sea lions, you will find out how plastic ends up in the sea and the negative impact it is having on the animals. Next to the orangutans, we explain how chocolate production affects them.
Species Conservation Center
The Species Conservation Center is an important forum for sharing knowledge and learning. In our permanent exhibition Biodiversity – Diversity Under Threat, you will learn fascinating things about the importance of biodiversity as well as a few sad facts about the current state of our planet. The center also hosts special exhibitions and lectures that give you the opportunity to find out and get involved in conservation projects around the world.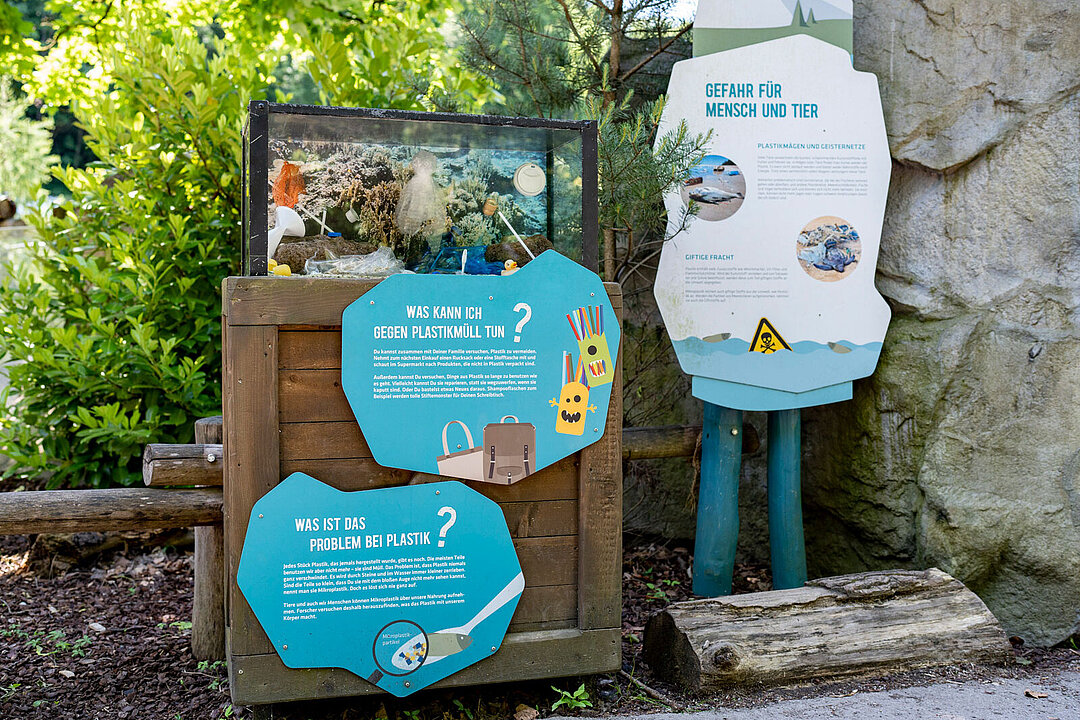 Science & research - Committed to animal welfare
What does a scientifically-led zoo mean?
Hellabrunn Zoo is home to hundreds of animal species, which enables it to contribute to fauna conservation in a number of ways.
Conservation breeding
Hellabrunn Zoo has been actively involved in international conservation breeding programmes such as EEP1 and ESB2 for many years. Participating zoos breed endangered animal species in order to secure their future existence and, where circumstances allow, to resettle them in suitable habitats. Hellabrunn Zoo coordinates the EEP1 and keeps the ISB3 studbook for drills, an endangered primate species from West Africa.
1 European Endangered Species Programme, 2 European studbook, 3 International studbook
Scientific cooperation
The success of conservation efforts for endangered species depends on scientific research on animal populations, distribution and behaviour. Hellabrunn supports zoo studies by working closely with universities and other research institutes. Our cooperation is helping to improve the management of animals in human care and to promote the conservation of endangered species in their natural habitat.
Reintroduction programmes
Zoos have saved a number of species from extinction that would otherwise have disappeared. By releasing former residents into the wild, endangered species are reintroduced into their natural habitats. The alpine ibex, for example, was on the brink of extinction due to overhunting by the mid-19th century. Thanks to conservation and reintroduction projects, the population has now recovered.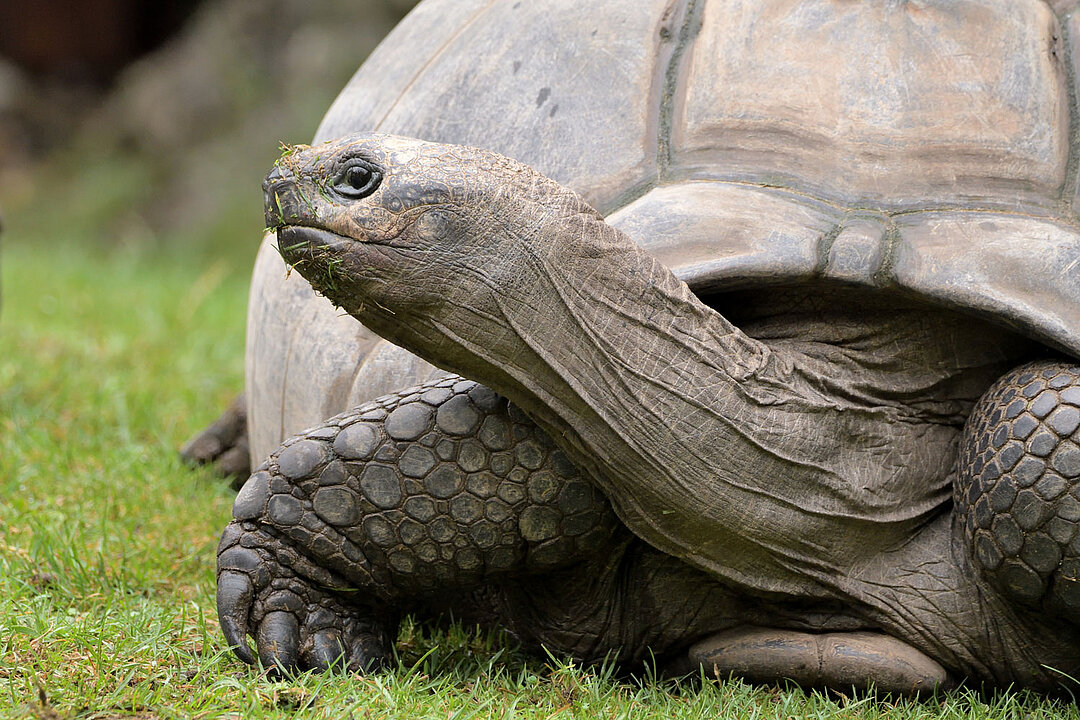 Species conservation – Wildlife network
One goal, many players
Hellabrunn Zoo is committed to species conservation both in regional and worldwide. Our conservation efforts include education programmes and scientific research. We aim to reach people like you through environmental education and to inspire you to get involved in conservation. We use the knowledge obtained through science and research to improve our conservation measures.
Hellabrunn supports conservation worldwide
Every year, zoos spend around US$ 350 million on conservation projects around the world. From 2012 to 2021 alone, Hellabrunn Zoo contributed over € 450,000 to more than 40 different species conservation projects. Publicity for the projects - at the zoo, online, via social media and through traditional news outlets - also played a significant role in raising awareness.
Nature conservation on zoo grounds
Native wildlife crawl, flutter and fly around Hellabrunn - even between the animal enclosures. The zoo is set in a beautiful conservation area - the Isar Meadows on the banks of the Isar river - that is teeming with life. The area is part of the Upper Isar Valley, which is specially protected under the European Fauna Flora Habitat (FFH) Directive. Hellabrunn Zoo therefore has a duty to protect a wide variety of native animal and plant species. It looks after over 350 different plants and offers a habitat for many free-living animals.
Part of a global alliance
Hellabrunn is one of over 400 members of the World Association of Zoos and Aquariums (WAZA). Scientifically-led zoos join international associations to improve cooperation and knowledge sharing. These associations work together to lobby worldwide for more effective species protection laws.